Did You Know
It takes one hour for 100 guests to go through a receiving line.
Visit us on Pinterest
Visit our extensive Pinterest event gallery boards for ideas and inspiration for every step of the way - from planning to the "day of" good bye to your guests.
Servicing the Lower Mainland:
· Vancouver
· West Vancouver
· North Vancouver
· Burnaby
· Richmond
· Coquitlam
· Port Moody
· Port Coquitlam
· Surrey
· Langley
· White Rock
· Delta
· Maple Ridge
· Tri Cities
Why a Wedding Planner? Why A New Paige Event?
Be 100% involved in making every decision but someone else will be doing all the work.
Save money with us: As opposed to other planners, many rental essentials are included with our service packages.
The best thing is: You will be free to enjoy the build up to your special day as much as the day itself.
Benefits of having your own wedding planner:
Expert Advice - The organizer is an experienced professional. Every detail expertly arranged in plenty of time.
Avoid Stress - Schedules ensure all goes according to plan leaving you to relax and enjoy every moment.
Save Time - Continual research from cakes to cars gives you choices without you having to do the leg work.
Save Money - Chose wisely your suppliers and vendors and you will stay within your budget.
Save on Rentals - With our wedding packages many otherwise rented essentials are included.
We supply creativity and passion to make your wedding memorable and as unique as you are.
Two Wedding Stories
The Kent Wedding

Intimate, classic, sit down dinner, DJ, dancing, event planner conducted and with definite personal touches for a party of 110 guests. *The father of the bride gave away his daughter with a high five.

The Schofield Wedding

Ceremony paperwork only, reception a big party, free bar, worked hand in hand with event planner for a party of 225 guests. *The whole reception went wild when the couple video presentation had actual footage of the loving couple caught in a private engaging moment while walking down the aisle leaving the church (taken place just 2 hours prior).
How we can help.
Wedding Consultation

Two Hours (Hourly Fee)
Vision
Budget - Overview
Direction - Plan - Checklist
Written Report

Wedding Day

Ten Hours on Day
(plus "Wedding Consultation")
Wedding Planner and Staff
Manage Wedding Day Schedule
(Vendors & People)
Direct Set-Up and Take-Down
Wedding Services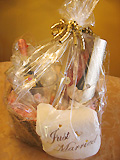 Charged at an Hourly Fee
No obligation to purchase "Wedding Consultation" or "Wedding Day"
Attend meeting with Vendors - Ceremony site, Officiate, Reception Site, Decorator Rentals, Caterer, Florist, Photographer, Videographer, Music, Entertainment, Transportation, Bridal or Groom Attire and Accessories, Stationery, Bakery, Liquor, Gift purchases, .....among many
DIY Task (Do It Yourself project assistance) – Invitations, Decorations, Favours, Wedding Cake, Centerpieces, Programs, Slide Show, Schedules, Rehearsal Dinner, Shower Games...just to name a few.
Wedding Essentials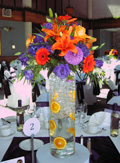 Available At No Additional Cost with "Wedding Day" package
Wedding Reference Books - Vows, Speeches, Shower Games, Wedding Tips, Crafts, etc.
Ceremony – Veils, Headpieces, Arch, Pew Decorations, Flower Girl Basket, Ring Bearer Pillow
Reception – Variety of sizes and designs of Vases, Tea Light Holders, Lights, Gift Card Boxes, Cake Stands
Accessories - Table Cards & Holders, Reserved Signs, Easel, Cake Knife Set
WOW factor - Props and Ideas
» So, for a day to remember contact us and we will make sure your day will be truly special. «